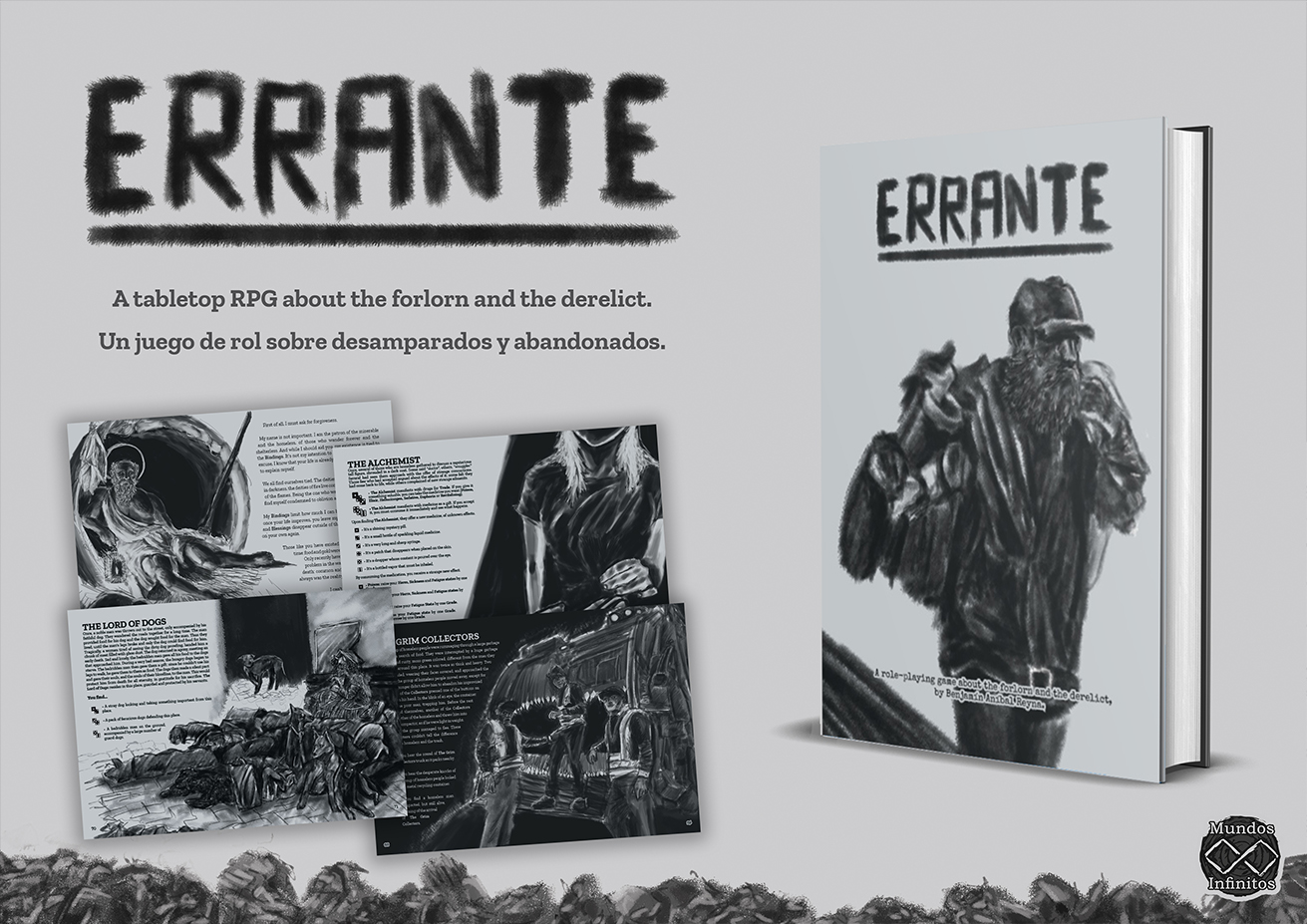 Errante
ERRANTE is a tabletop role-playing game (TTRPG) about homeless people who wander to survive in a world that has no place for them, having to face strange sinister entities that inhabit the world of the invisible, with the power of a mysterious Blessing. You must survive and endure, waiting for an oportunity to take. These stories will be tragic, unsettling, and melancholic.
The 84 pages include:
· A very simple GMless shared-narration rule-system, but has the option to be played with a GM.
· Fully illustrated with haunting images.
· A randomly built setting, giving you many different possibilities for Regions, Social Contexts and Hazards.

· A survival guide for the streets.
· Six Blessings to survive with that grant very particular skills.
· Abrupt and mysterious Conclusions, making each game surprising.
· 18 Rumors, supernatural entities, like victims transformed strange beings or places that are not governed by the laws of reality.
Hope you enjoy this game. Follow Mundos Infinitos to receive updates and news. If you like it, share this link with your friends, it really helps me. Each contribution allows me to make more games.



ERRANTE es un juego de rol de mesa sobre personas desamparadas que realizan andanzas para sobrevivir en un mundo el cuál no les da lugar, teniendo que enfrentarse a extrañas entidades siniestras que habitan el mundo de lo invisible con el poder de una Bendición misteriosa. Deberás sobrevivir y resistir hasta que pueda presentarse una oportunidad que puedas tomar. Estas historias serán trágicas, inquietantes y melancólicas.
Características:
· Posee un sistema de reglas sumamente sencillo de narración compartida.
· Completamente ilustrado con imágenes inquietantes.
· Es un juego sin GM y con narración compartida, pero puede ser jugado con GM.
· La ambientación es construida de forma aleatoria, dándote muchas posibilidades diferentes de Regiones, Contextos sociales y Peligros.
· Una guía de supervivencia en las calles.
· Seis Bendiciones con las cuales sobrevivir que conceden poderes muy particulares.
· Las Conclusiones de la historia son abruptas y misteriosas, haciendo cada partida sorpresiva.
· 18 Rumores, entidades sobrenaturales como victimas transformadas seres extraños o lugares que no se rigen por las leyes de la realidad.
Espero que disfrutes este juego. Sigue a Mundos Infinitos para recibir novedades. Si te gusta, comparte este enlace con tus amistades, realmente me ayuda. Cada contribución me permite realizar más juegos.
Download
Click download now to get access to the following files:
Errante(english).pdf
34 MB
Errante(castellano).pdf
34 MB